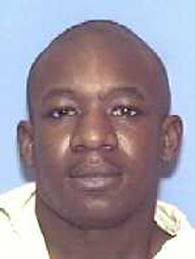 Last night, 33-year-old Yokamon Hearn was executed for capital murder, making him the sixth Texan to be executed this year.
Hearn, who was also the first inmate in Texas injected with a single dose of the sedative pentobarbital, was pronounced dead at 6:37 p.m, 25 minutes after the lethal flow entered his system.
Just last week, Texas Department of Criminal Justice officials disclosed that they would be changing the three-drug cocktail used since 1982 "because the state's supply of one of the drugs—the muscle relaxant pancuronium bromide—has expired," reported the Associated Press' Michael Graczyk.
On March 25, 1998, Hearn, then 19, and his friends approached 23-year-old Plano businessman Frank Meziere while he was cleaning his Mustang alone at a Dallas car wash. The group then held Meziere at gunpoint and drove him to an area near Dallas's wastewater treatment plant, where Hearn first shot the young man with an assault-style rifle. Meziere was shot at least ten times.
Hearn had a criminal record that included robbery, sexual assault, and weapons possession.
During his trial, Teresa Shirley, who participated in the carjacking, testified that Hearn "waved around a newspaper account of the crime and was pleased it said Meziere had been shot in the head, or "domed" in street slang. According to the Dallas Morning News, Hearn told her: 'I told you I domed him. I told you. I told you,'"  reported Graczyk.
There was speculation as to whether Hearn was eligible to receive the death penalty, since his mother allegedly drank alcohol while pregnant, and some contended he had brain damage. His lawyers argued that he was mentally inept, though testing revealed an IQ too high to qualify him as mentally impaired.
Previously, a 2004 death chamber date had been set for Hearn, but a federal court decision that came down less than an hour before his execution stated that there were more arguments to be heard regarding Hearn's mental state.
Andrew Cohen at the Atlantic summed up the argument that Hearn's current attorneys presented this way:
1) evidence that Yokamon's parents were severely impaired throughout his life; 2) that he was the victim of neglect at the hands of his parents; 3) that relatives who were portrayed at trial as unflinchingly committed and capable of caring for Yokamon were not so; 4) that he had a history of mental health problems, including suicidal ideations, as a young child and that his emotional problems stemmed from his parents' inability to parent him; 5) that he was exposed to risk factors commonly associated
Pages