It's only taken fifteen years, four championships and, starting tonight, a sixth appearance in the NBA Finals, but America has finally fallen for the San Antonio Spurs. Or, maybe the masses just like them more than the Miami Heat.
In any case, this ESPN "SportsNation" poll makes it clear that during these Finals, San Antonio's team is America's team:
Even Florida is barely rooting for the Heat, with 38 percent of those respondents pulling for the Spurs and ten percent with "no rooting interest."
Sports fans have had it in for Miami superstar and four-time NBA Most Valuable Player LeBron James ever since ESPN aired "The Decision," the self-aggrandizing pageant hyping LeBron's signing with the Heat, which has since won two of the last three NBA championships (the Dallas Mavericks beat them in 2011). Conversely, the Spurs have earned a lot of sympathy for last year's Finals heartbreak—up 3-2 in the series, San Antonio led the Heat by five points with 28 seconds left in Game 6, only to lose in overtime and then drop Game 7.
This year's Spurs-Heat rematch is the first NBA Finals rematch since the Chicago Bulls and Utah Jazz in 1998, a year, it should be noted, that was Tim Duncan's rookie season, one year before the Spurs' first title. That's right: San Antonio won its first NBA championship when George W. Bush was still the governor of Texas. But it also hasn't brought one home since Bush was president—back in 2007. Nearly every year since then, people have attempted to declare the Duncan-Tony Parker-Manu Ginobili era over. In 2012, when the Spurs lost to the Oklahoma City Thunder in the Western Conference finals, TNT commentator and San Antonio cultural analyst Charles Barkley declared that the then-36-year-old Duncan ought to retire. And in last year's playoffs Ginobili, who was 35 at the time, definitely looked his age.
Yet here come the Spurs again, a team holding the best record in the NBA; helmed by Gregg Popovich, who received his third Coach of the Year award; and general manager R.C. Buford, who got his first-ever Executive of the Year award.
All these accomplishments seemed to have done nothing to rally a national fan base, though. Conventional wisdom had long been that the Spurs are boring. "Death, taxes, and the Spurs—there is something simultaneously inspiring and disheartening about San Antonio," observed "Netw3rk," a columnist at Grantland. Critics long knocked Duncan for lacking superstar charisma to accompany his superstar ability.
But public opinion seems to be shifting. As ESPN's Marc Stein wrote in a lovely piece on Popovich and Duncan's long relationship, a 2012 ESPN survey of 18,000 NBA fans found that zero teenagers in the poll named Duncan as their favorite player; this year, the Big Fundamental had one of the league's top-selling jerseys for the first time since 2007. Grantland, whose founder, Bill Simmons, is a basketball obsessive, covers the Spurs as frequently and lovingly as, well, Texas Monthly covers Willie Nelson.
"There's something strange in realizing that the Spurs are not just great, but quietly great fun to watch as well," wrote David Roth of SBNation a few weeks ago. "It's something like finding out that you suddenly like Steely Dan after years of not only not liking Steely Dan, but defining yourself as the sort of person who does not like Steely Dan and in fact does not even like other people that like Steely Dan."
The "Spurs are boring" obituary—the moment, if you will, when they tranformed from Donald Fagen into Pharrell Willams—may have come on Saturday, when Deadspin posted this GIF from the third quarter of San Antonio's Game 6 win over Oklahoma City.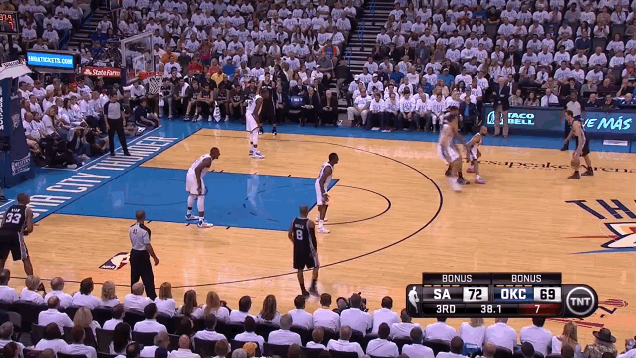 That play is a flashy version of both what's great about the Spurs and what people sometimes hate about the Spurs. Now more than ever, they're a team. Prior to Game 6, the Spurs had lost nine straight times in Oklahoma City, including the first two games of this year's conference finals, and three games in the 2012 postseason. So of course, the thing that finally enabled them to break that streak was losing their best player, Parker, whose injured ankle kept him from appearing in the second half. Trailing 49-42 at intermission, the Spurs won 112-107, with 51 of those points coming from the bench (the Thunder's bench had five). All eleven Spurs who stepped onto the court put up a shot. For the entire 2014 playoffs, the Spurs have nine players averaging at least eight points per game, the first time that has happened in the NBA since 1966.
What's especially amazing about this is that, despite the constancy of Duncan, Parker, and Ginobili, everything around them changes. Other than the Big Three, there's nobody left from the Spurs' 2003 or 2005 championship teams (only two guys from the 2005 squad are in the NBA at all). Only Matt Bonner remains from the 2007 roster. But as Roth's SBNation noted, whether it's old hands Steve Kerr, Bruce Bowen, and Malik Rose, or current heroes Kawhi Leonard, Boris Diaw, and Patty Mills, "the defining characteristic of the various and oddly-similar championship teams on which they played was that none were asked to do things they could not do."
That, obviously, is all due to Gregg Popovich—how he chooses players, then how he uses them. Paradoxically, Pop has also become San Antonio's most entertaining figure, his man-of-few-words sideline interviews and withering press conferences the stuff of legend in the social media age. What started out as a seemingly obstinate refusal to be interesting (or interested) has turned into basketball's second-best source of televised banter after Barkley and Kenny Smith on Inside the NBA. At most sports journalism cattle-calls, you have to yell your question before someone else shouts theirs. At Popovich's pre- and post-game sessions, there's almost always a few beats of awkward silence between queries, Pop looking around the room expectantly, the assembled media approaching him like an old rope bridge. Do I dare take that first step? Will it hold?
"Same starters tonight?" was the first question Popovich got asked before Game 5 of the Western Conference Finals, earning the interrogator a look that fell somewhere between hostile and "who farted?" ("We're trying to figure it out," was the ultimate reply). It's not Pop's job to be charming, but he is anyway, in his own particularly laconic, ex-military way.
Later in the same press conference, another writer said he was "trying to tweet Pop's quote." Because the thing is, you can—his thoughts easily fit into 140 characters or less (and that may even include a mention of his full last name). Other coaches talk in full sentences and paragraphs, but don't actually say that much.
Popovich's approach to media relations is actually a form of media criticism, designed to shut down stupid questions, unanswerable questions, and questions that are not actually questions ("can you talk about…?"). And while Popovich may never really want to be there—he could be getting ready for another game! Reading a book! Drinking some Pinot Noir!—he's pretty reliably in the moment: attentive, engaged, looking each questioner directly in the eye.
Pop's greatest, most sarcastic hits are also partially affectionate. Before Game 6, his usage of the phrase "it's not rocket science" (surprisingly clichéd for him) eventually led to this exchange:
Q. Did you study any rocket science at the [Air Force] academy?

GREGG POPOVICH: Yeah, I had aeronautical engineering and astronomical engineering courses, yeah.

Q. Pretty hard, weren't they?

GREGG POPOVICH: I got D's. So far the questions are amazing. I'm enjoying the hell out of this. Keep them coming. This is great.
And he does seem to enjoy it. Often he ends up laughing, either directly at the media or at himself, teeth flashing from behind a sideways grin. It's almost like when Jon Stewart slips out of his news anchor persona and cracks himself up, as with this instant YouTube classic after Game 5 against OKC.
It's kind of a uniquely San Antonio thing, that Gregg Popovich gets to be Gregg Popovich. As the only pro franchise in San Antonio, the Spurs don't have to fight for everyone's attention (winning also helps). He doesn't have to pander to the media. He can raise his middle finger to the league (as when he refused to play his aging stars in a regular season game against the Heat last year, either to rest them or to protest a relentless schedule) without calling attention to himself. He's not accountable to ESPN or the NBA or Nike or the Spurs' marketing department, just the people of San Antonio. And those people aren't lying when they say that they're the best fans in the league.
Consider the context. San Antonio, the seventh most populous city in America and the second most populous city in Texas, only has one pro franchise. The city has been used as a negotiating pawn for several NFL and baseball teams that never came, so its sports fans have to root for football and baseball teams from Dallas or Houston. But this sports inferiority complex of not being Dallas or Houston (and not even Austin, which at least has the Longhorns), fades away when Spurs are on the court, because this team is better than any sports franchise from any of those other places. That's what sports is all about. Misdirected, ridiculous and vicarious passion.
Just as Popovich and Buford, both protégés of former Spurs coach Larry Brown, seem to run their NBA club more along the lines of a college "program," where the system and the coaching thrives while players come and go, Spurs fans feel a bit more like the sort you'd find at DKR-Memorial or Kyle Field, rather than other NBA arenas. Truthfully, the fan base that Spurs Nation most resembles is that of Texas A&M–a particular mixture of arrogance and chip-on-the-shoulder insecurity. The Spurs may be this year's favorite, both at the sports books and in ESPN surveys, but they're not really America's team, or even Texas's team. Just San Antonio's team. Los Spurs. Everyone in San Antonio's alma mater.
(Popovich and Duncan/Ginobili photos, Sue Ogrocki, Associated Press.)