It was the year 1992 in Guanajuato, Mexico. I was only 10 years old when I heard the lyrics "Como la flor con tanto amor, me diste tú, se marchitó…" for the first time. Immediately, I felt energized, had the desire to dance and wanted to sing along.
This first experience came after my Dad returned to Guanajuato from working in the United States. He brought me a Selena album, and I asked him, "Who is she Dad?" He replied, "La reina del Tex-Mex, mija." That was the beginning of my admiration for this amazing Latina star, who shared my physical features and was shining in both the United States and Mexico. Selena's magic spread quickly. In my elementary school festivals, we began imitating Selena, by dressing like her, dancing and singing her songs.
Without a doubt the most beautiful memory that each Selena song brings to me has to do with my aunt Mary, or "Tia Chachis," as I called her. Tia Chachis was my example of a strong woman, warrior and pioneer. She was born the same year as Selena, was happy, full of life, and called herself the Selena Quintanilla of my town. Unfortunately, Tia Chachis passed away from a heart attack last year at the age of 49, on December 4. This was the very day that Netflix released Selena: The Series. Was this a coincidence or something more? I don't know. What is clear to me is that Selena, her music, and her story has represented a lot in my life. Now that I live in Texas, my commitment is to continue maintaining Selena's legacy.
I have been fortunate enough to visit some of the places where Selena is most represented in Corpus Christi. I want to invite the whole world to visit those special locations and to feel their energy firsthand. Whether you are a long-time fan of Selena and want to remember your own special moments, or you want to learn about her music and life, these destinations have something for you.
Selena Memorial-Mirador De La Flor
Located on the Bayfront Seawall in Corpus Christi, The Mirador de la Flor will make you admire the physical beauty and particular style of Selena. There you will find the life-size statue of Selena by artist H.W. "Buddy" Tatum, opened in 1997, which attracts thousands of tourists a year. The Flower Walk will guide you down the steps to the water with beautiful tiles hand painted by South Texas School children and seniors.
Selena Museum
The Selena Museum is located next to Q-Productions, Selena's family music studio, at 5410 Leopard Street. Open Monday through Friday, 10 a.m. to 4 p.m. When visiting the museum, you will be able to see different photographs of Selena from childhood and throughout her career, her red convertible, her famous outfits that she used in her presentations, her gold and platinum records, and more. You can also buy merchandise with her image such as clothing, hats, DVD's and more. Visit www.q-productions.com for more information.
Swantner Park in Corpus Christi
This is the exact spot where the dancing scene was filmed in the Selena movie released in 1997. This park served as a significant backdrop for the film and was where Selena learned Cumbia dancing from her mother.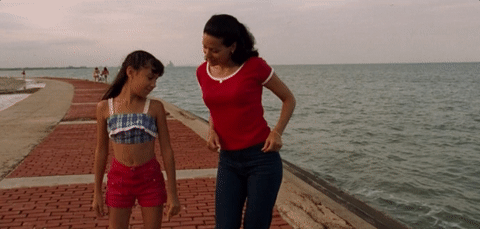 Selena's Neighborhood and Mural
Located at 4261 Elvira Drive, you will find a mural on the wall of a corner store. Selena once lived on the same street, so you can drive around the neighborhood and take some selfies.
South Texas Walk of Fame
Corpus Christi has its very own Walk of Fame. Since 2004, different musical artists from South Texas have been honored such as George Strait, Kris Kristofferson, Freddy Fender, Chris Perez and of course, our beloved Selena. For the location, special events and more information follow them on Facebook at @SouthTexasMusicWalkOfFame
Hi-Ho Restaurant
If you visit Corpus Christi, make sure you stop by Hi-Ho Restaurant. Located in the 3700 block of Morgan Avenue. This was one of Selena's favorite places to eat in Corpus Christi. According to fans, her favorite thing to order was the Carne Guisada plate. Also, you will find lots of never before seen photos on the walls and Selena's art all over the restaurant.
Selena's Resting Place
Located at 4357 Ocean Drive, many fans visit Selena's final resting place in Corpus Christi at the Seaside Memorial Park to pay their respects.
---
Now it's your turn. Visit Corpus Christi and experience Selena's legacy for yourself.