Headline Of The Day
Lawsuit Claims S.A. Religious Leader Preyed On His Kids' Nanny
— San Antonio Express-News
Product Placement Wednesday
From the company that brought you eau du College Station comes another in its line of fragrances "designed to smell like school spirit." University of Texas at Austin cologne will be launched this week and will smell primarily like money with hints of former glory. Kidding! "The scent was inspired by Austin's burnt orange color with notes of mandarin pulp, orange blossom, tabac absolute, and vanilla. The ladies' perfume incorporates 'springtime aromatics' inspired by Texas Bluebonnets. The mens' cologne will have hints of soft leather, because…uh…boots."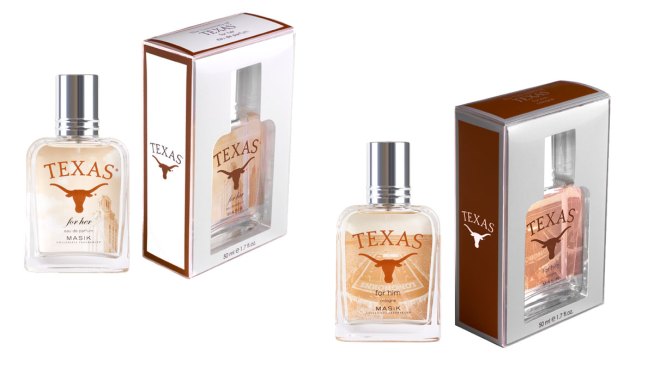 Texas By The Numbers
Lone Star Taxes — Percentage of collective income Texas taxpayer paid state (based on latest available data): 7.5 percent. National average: 9.8 percent. Total state and local per capita taxes paid: $3,088. Rank of taxes paid: forty-seventh. Amount of revenue state lost, per individual, thanks to tax havens: $1,255. Texas's rank among states with best business climate: eleven.
Quarter(green)backs — Amount of Tony Romo's new six-year contract extension: $108 million. His rank among highest-paid athletes worldwide: fourteenth. His rank among NFL players: sixth. Only other Texan in top-25 list: Rangers first baseman Prince Fielder. Fielder's rank: twentieth. Amount per year: $24 million.
Daily Roundup
Gubernatorial Updates — "Texas candidate faces thorny death penalty choice," reads the Associated Press headline that numerous state publications are featuring on their websites. The "election-year dilemma" concerns Attorney General Greg Abbott, who "must soon decide whether to stick with his earlier opinions that Texas must disclose the source of the execution drugs it uses … If Abbott holds firm, he'll please death penalty opponents who prison officials say want to target the companies with protests and threats. Reversing course would go against his vows for transparency in government." As election day approaches, stories about this type of political maneuvering are bound to crop up, but this particular issue might be considered a dead man walking since it notes that recent public support in Texas for the death penalty is "at more than 70 percent" and even anti-capital punishment advocates concede that "Texas embraces the death penalty tighter than most." And then there's the most horse-race figures, released Tuesday, that found "Abbott was leading Davis 51 percent to 37 percent, just about the same as Abbott's 15-point lead when the group last polled in November," according to the Austin American-Statesman. "Most troubling for the Davis campaign is that nearly half the electorate has an unfavorable view of [her]" and "Davis is as unpopular with women as men." So, really, the only thorny issue Abbott could possibly face would have to be of Edwin Edwards proportions. In Abbot's case it would require officiating a same-sex marriage between members of the Brady Campaign to Prevent Gun Violence after which an all-vegan reception is held.
No Blood on His Hands — Just in time for Passover: miraculous stories involving one being saved from judgement and rivers running red with blood. A local D.A. dropped the charges against Rusty Ondrusek, an executive with the Columbia Packing Company, which has been accused of dumping massive amounts of slaughtered pigs's blood into a tributary near downtown Dallas. For such a wild story (check out the aerial photo), few details about the case are known (officials were informed of the incident by an civilian eyewitness, not the company). Although not nearly as long as forty years in the desert, the case has been going on since January 2012, with the company saying the discharge was the result of clogged sewer line. And though charges against Ondrusek were dropped, the "company faces six charges of releasing industrial waste into the creek and two counts of tampering with evidence to impede wastewater test. [Rusty's cousin] Carl Ondrusek was charged with six counts of polluting water and two counts of tampering with the monitoring of waste flows from the plant," according to the Dallas Morning News. "Some of the cases were set for trial next week but they are no longer on the docket," and "it is unclear if the charges against [Carl Ondrusek and the company] will also be dismissed at some point."
Immigration Fight, IRL — What began as a spat on Twitter metastasized to the television screen as San Antonio Mayor Julian Castro and Lite Guv candidate Dan Patrick heatedly debated immigration Tuesday. Castro came out swinging and didn't hold back. Responding to Patrick's statement that illegalls are a bunch of criminals, Castro said, "Your numbers are wrong. Your policies are wrong. And you're wrong for Texas." For his part, Patrick doubled-down on his previous stances on immigration including "beefing up border security and ending programs like the Texas Dream Act," according to the Morning News. The debate was shown online as well as Univision. And while it's true that, in the words of the AP's one-sentence paragraph, "There was no new ground staked out by the antagonists," it was pretty great that two politicians could get together for a debate without being direct competitors for a particular position.
New Texas Legend — Without trying to sound too glib, recently deceased 54-year-old Sheila Johnson deserves a state-wide funeral parade worthy of a Texan who embodied the Lone Star spirit. Johnson was killed in an apparent gun battle at a Fort Worth auction house, where she had taken it upon herself to spend the night because of a rash of burglaries. As detailed in the Fort Worth Star-Telegram's unbelievable story, "Johnson was dead near the auctioneer lectern. She'd been shot multiple times in the torso … The policeman told me she emptied a clip from a .22 rifle so she fought back," said the auction house's owner. The nature of Johnson's death is only newsworthy because of the life she led. It would appear she went out the way she went in, as a real Texas woman. "She was a firebrand, a lightning bolt. She had just a huge amount of spunk," said the owner. "She was extremely strong. She would outlift — outwork — the football players that would come from O.D. Wyatt that we worked with getting ready for auctions," Crowder said. "She looked thin as a rail but was strong as an ox. She could move a refrigerator by herself. She was just unbelievable." There are more details of the Johnson's amazing life in the story. For now, raise a glass, pour out libations, and carry with flitting tongues the great deeds of this new Texas legend.
Clickity Bits
School Advocates to Perry: Don't Tase Them, Bro!
'Obama Commutes Texas Prisoner Sentence Made Longer By Typo'
UT Confirms A&M Prank, Will Rip Out All Maroon-Bonnets
Another Round of the Great Farrah Fawcett Art Fight
'Perry's Lawyer In Veto Probe Hired At $450 Hourly'
The Cost of Inoffensive High School Mascots is $250,000
Did we miss something? Got a hot news tip? Send it our way: [email protected]. Or tweet Texas Monthly and Jeff Winkler