Photo of the Day
It's no secret, weather in Texas can be hail. Yesterday, Texas Storm Chasers tweeted out this photo submitted by a Frisco resident: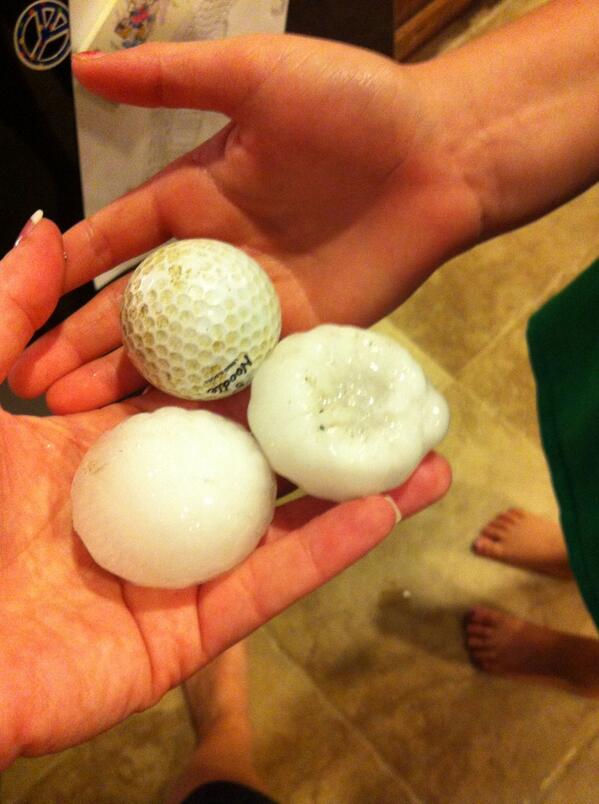 Daily Roundup
As The Gunsmoke Clears — Almost all of Texas (and a significant portion of the U.S.) has been consumed with the news of Fort Hood in the past forty hours. Investigators are pretty convinced that the shooter, Specialist Ivan Lopez, "had a medical history that indicates an unstable psychiatric or psychological condition," and was being evaluated for a slew of mental health issues, according to CNN. "[W]e believe that to be the fundamental underlying causal factor." Disturbed as he was, officials are saying that Lopez showed "no sign of likely violence" and neighbors are describing him as a "a nice guy … a very laid-back person," whose entire family (including a wife and young daughter) "seemed real sweet." Most of the items are very careful in their initial profiles of Lopez, save for Fox News Latino, which latched onto a "chilling Facebook post" Lopez wrote on March 1. One of the more prominent side stories making the rounds is that Lopez bought the .45 caliber pistol he used to kill three people, injure sixteen and kill himself with, at the same local store — Guns Galore — where the psycho Nidal Hasan bought his weapon of choice in 2009. Make of that what you will. If there is any good news to come from this, it's that doctors are "optimistic [that] none of the three critically wounded patients being treated at Scott & White Memorial Hospital will succumb to their injuries."
Silenced — Less than a day after a judge blocked the execution of an inmate until the state revealed its death drug supplier, the U.S. Supreme Court declined to hear the case and the man was summarily killed yesterday evening. Lawyers for the deceased contended that "they needed to know the name of the pharmacy in order to verify the drug's quality and protect [the inmate] from unconstitutional pain and suffering," according to the AP, in a story that doesn't shy away from some very emotionally painful aspects of the debate. "My sister didn't get the constitutional pain and suffering," said the victim's brother, adding that the punishment of the child killer was "pretty easy." As previously reported, the state's vague case against transparency is that the drug's supplier "must be kept secret to protect it from threats of violence." So kudos to the AP for calling BS in a story yesterday. "The Associated Press could find no evidence that any such investigations [of violent threats against participating pharmacies] are underway in Texas, and police in the community where one such pharmacy is located said they are not concerned. In neighboring Oklahoma, the attorney general said Thursday he was investigating such a threat, but several other law enforcement agencies told the AP his office has never mentioned it."
Unad-venture-ous Capital — Texas might be seeing some mad economic growth but apparently we're a little behind when it comes to next-level investments. "Texas accounts for 9 percent of U.S. economic activity, according the Dallas Federal Reserve, but the state attracts only 5 percent of venture capital investments in emerging companies," declared the AP, which spoke with several experts. "While California's Silicon Valley saw $12.3 billion in venture capital investment last year, Texas had only $1.3 billion … Impediments included a lack of venture capital firms in Texas, the fact that oil and gas companies play such a large role in the state's economy and a shortage of companies to invest in that will produce the high return on investment the firms need in a relatively short period of time." Of course, the experts disagree on how to remedy the lack of venture capitalists roaming the countryside. One is government incentives with tax payer money, which should go over like gangbusters in Texas. Others say Texas needs to invest more in public infrastructure and a general facelift in order to lure such attractive business. Either way, both sides agree ya gotta spend money to make money.
Treasure Hunt — And speaking of spending money, UT shelled out some serious bones during its search for a new football coach, $266,990 to be exact, according to invoices obtained by USAToday. "The executive search firm Korn/Ferry International billed Texas $250,000 for helping hire coach Charlie Strong in January, plus an administrative fee of 6 percent — $15,000. An additional invoice dated March 19 charged Texas $1,990 in [travel] expenses. As the story notes, that figure "puts Texas in the same rarefied air as Colorado State, which paid about $320,000 to search firm Spencer Stuart for its football coach search in 2011." It took the consulting firm sixteen days to find Strong, which comes out to about $16,686 a day. And god bless the search firm's greedy little heart. After Strong was hired, they sent an email asking UT President Bill Powers if he was sure they couldn't help "conduct employment reference checks or an education verification for Charlie Strong."
Clickity Bits
'Border Patrol Beefs Up Presence In South Texas'
Kids Say The Darndest Things … And Then Get Kicked Out Of Preschool?
Pay Attention Texas, More Than 94,00 Crashes Due To Distracted Driving
It's That Time Of Year For Watermelon And A Whole Lotta Weed
USAToday Compelled To Explain 'North Texas' To Its National Readers
The Latest Trend: Beating Up Inmates
There's Still Lotsa Oil On Them Thar Beaches
Redskins Sign Former UT QB Colt McCoy
Did we miss something? Got a hot news tip? Send it our way: feedbag@texasmonthly.com. Or tweet Texas Monthly and Jeff Winkler