Video of the Day
Hey Girl, here's the answer: Who is the sexiest Texas football coach? That's right, the Kliff Kingsbury/Ryan Gosling connection was a question on Wednesday's Jeopardy!
Tweet Prank of The Day
That infamous Twitter account recounting comments made by Goldman Sachs employees on elevators was, like our housing bubble, too good to be true. Turns out it was a prank. Even better, it was a prank pulled off by a "34-year-old former bond executive" from Texas.
Photo Friday
Craig Bjornson is the Astros bullpen coach.* You do not want to get on his bad side. And if you do, try not to laugh: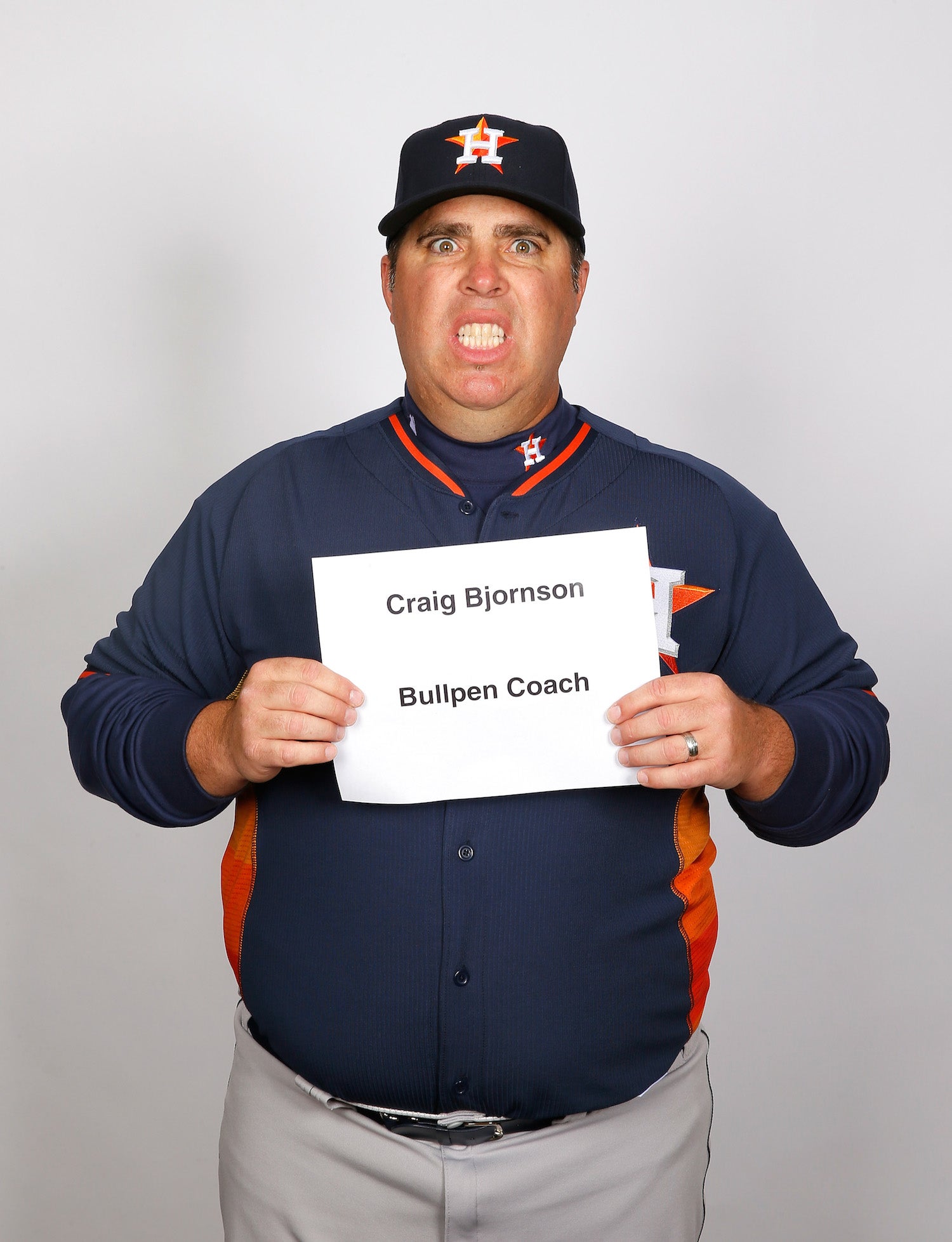 Daily Roundup
Border Insecurities — Looks like all that wonderful (and expensive) technology meant to secure Texas's borders won't be installed until later, if ever. Lite guv David Dewhurst's plan to "quickly" ramp up border security with a cool $60 million won't start building walls until September. The delay raises "accusations by his primary opponents that his urgent call for a border enforcement surge was politically motivated." Because politicians's calls for immigration are never political motivated. Still, his opponents (he's in a tight race to keep his job) smell blood and sense a crack in the wall: "Waiting until after the budget process is over to address what ought to be a public safety priority issue is a classic election year conversion," said current Land Commissioner Jerry Patterson's political spokesman, according to the AP. Todd Staples, the current ag commish and another of Dewhurst's opponent in the Republican primary, said basically the same thing. At this rate, Dew may want to consider fortifying his job before anything else.
Thus Falls the Colosseum — Speaking of cracks in the wall, there's some literal ones causing serious problems. Remember that high school football stadium in Allen that cost exactly as much as increased border security? Perhaps they should've shelled out $61 million. "Eagle Stadium in the Dallas suburb of Allen will be closed until at least June for an examination of 'extensive cracking' in the concrete of the stadium's concourse," according to ESPN. The problems are so bad that it's unlikely that the stadium will be open come football season. School officials are understandably upset (as are local players, families, and fans). And, for a little salt in the wound, "The district's graduation ceremonies and all other events are now on hold indefinitely."
Doggone — More than six years ago, law enforcement and the state screwed the pooch, and now a woman is getting her dog day in court. A "Texas woman who was falsely imprisoned six years for capital murder has filed a federal lawsuit over dog-scent lineups." A description of the lineup: "In a dog-scent lineup, a dog was introduced to a scent sample collected from a crime scene or piece of evidence. After 'getting' that scent, the dog was then presented with a series of paint cans containing 'scent pads,' or pieces of gauze with scents on them, the lawsuit states." Then the dog's "testimony" is used to put people in jail for dog years. The "junk science" referred to in the lawsuit has been under the microscope for years, and Texas Monthly's own Mike Hall wrote a fantastic piece four years ago explaining the murky science of scent-evidence and how it it is used in court.
Cuban Revolution — Mark Cuban won't budge. "The Dallas Mavericks are unwilling to relocate their games from the American Airlines Center to make way for the 2016 Republican National Convention if they make the playoffs that season," according to the Dallas Morning News. The center, which has been proposed as the "primary" site for the RNC, might already be occupied around the time of the convention: it's playoffs season. Cuban's unwillingness to give up the American Airlines Center to the Republicans "could hurt the city's chances, depending on when the convention is to be held and how much flexibility venues can offer in other cities competing for the GOP gathering." Apart from the Mavericks getting into the playoffs, the other major upside of the convention center hosting the RNC is the possibility of Cuban stage-side, yelling at the speakers.
Clickity Bits
Perry, Abbott Want Annulment of Gay Marriage Decision
Court Rules Lance Armstrong Now Needs to Be Money Tested
Houston's the Place For Cheapos
Good News: East Texas Might Have More Time To Hunt Squirrel
'Did A Texas Man Slay the Mythical Chupacabra?'
Dick Durben to Friday Night Tykes: Tiny Hearts, Should Lose
Longhorns Dangerous Even When Dead, Stuffed
Did we miss something? Got a hot news tip? Send it our way: feedbag@texasmonthly.com. Or tweet Texas Monthly and Jeff Winkler
*Correction: An earlier version of this story called Craig Bjornson the Astros football coach, when that is clearly not correct. He is the Astros bullpen coach. We regret the error.