Photo of the Day
Sure, Halloween was four days ago, but it's never too late to name the winner of Texas Halloween. Thankfully, the prize doesn't go to the guy who dressed up his lawn as an Ebola disaster zone. It goes to the two fellows who may not enjoy craft beer but are certainly not lacking in craftsmanship. The pair went as The Lone Star Knight and the Knight In Shiner armor. Well done, boys: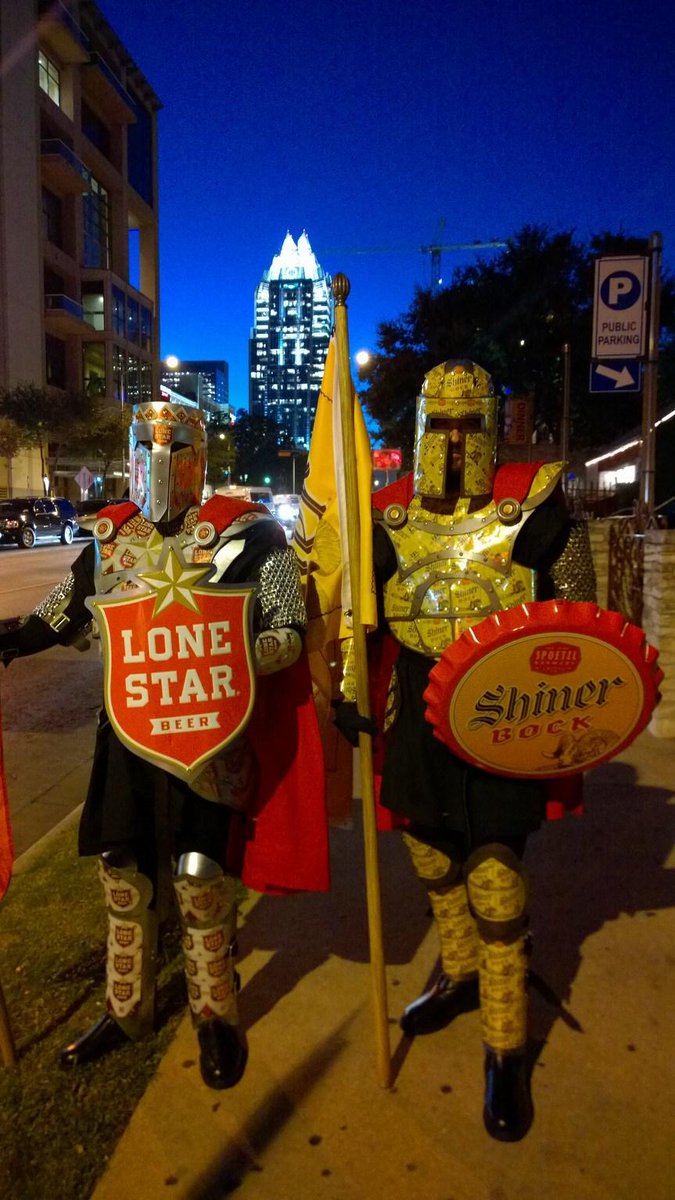 Meme Tuesday
It appears the younger Internet generation has now its own version of Ridiculously Photogenic Marathon Guy. Alex From Target, whom all the One Direction fans have declared hawt, is reportedly from Texas. The teen's twitpic "garnered more than 1,500 retweets and more than 2,500 favorites, which sparked the Twitter hashtag #alexfromtarget, which received more than 809,000 Twitter mentions during the past 24 hours," according to the San Antonio Express-News. More than one publication put a reporter on the trail to find out who this kid is, but no one can tell why this is so important to know:
Daily Roundup
Indecision 2014 — At long last, that day of reckoning is upon us. Maybe this Election Day will be better than the previous election days. A new study found that "of the most politically engaged states shows that Texas is dead-last in the percentage of residents who voted in the 2010 midterm election," reports the Fort Worth Star-Telegram. "And Texas ranked 47th in the percentage of residents who turned out for the 2012 presidential election. In the last presidential election, more senior citizens in Texas—74 percent—voted than residents ages 18 to 24—25 percent." People can't even seem to get excited about the mere preparation for Election Day. As the Texas Observer so wily notes in its headline, "Texas Has Issued Seven Times More Auctioneers' Licenses than Voter ID Cards." The total number of IDs issued is 340, "less than two thousandths of a percent of Texas' voting age population," notes the Observer story. "That's only a little more than one EIC for each of Texas' 254 counties. And many counties haven't had a single citizen obtain an EIC. Another way to slice the numbers: There are more licensed auctioneers (2,454) in Texas than there are people with EICs." At least Queen Bey's old church in Houston is apparently pushing the masses to vote, after mass. One person who'll need a divine miracle, of course, is Wendy Davis. Despite Democrats beginning the week by tempering expectations, Davis, as the Houston Chronicle put it, "refused to acknowledge the long odds she faces" and told reporters "I want it to be remembered as the biggest political upset in Texas history." Her fight to the bitter end is understandable. Greg Abbott's biggest concern, if it can be called that, is statewide rain, which could in theory and at most, dampen his landslide victory. Remember, if you don't vote you don't get to complain where it is that we order take-out, or something like that.
Grand Threat Perry — The Rick Perry indictment has taken another legal detour. In response to his legal team's request for the grand jury transcripts, prosecutors have pushed back, saying Perry "has no legal right to receive a transcript of what witnesses told the grand jury that indicted him," reports the Texas Tribune. Perry's team argues they need it for research purposes. "Last month, Perry's lawyers told [Visiting Judge Bert] Richardson they need a transcript of the grand jury testimony, and believe it will prove that the grand jury was made privy to private discussions the governor had with his staff about the veto." That's distinction is apparently important since, "Perry argues those discussions are protected from prosecution by the 'speech and debate' clauses of federal and state law. But prosecutors argue 'speech or debate' clauses only apply to the legislative branch, not the executive." So long as the prosecution crosses all its Ts and dots all its Is and the defense keeps throwing technicalities at the wall, expect this legal battle to last until election day 2034. "I'll explore every legal avenue to expedite this matter," said Perry in August. He was not lying. As the Tribune notes, "Defense lawyers have asked Richardson to toss out the indictment, arguing in part that [special prosecutor Mike] McCrum was not sworn in properly."
Additional Bible Study — Houston's sermon subpoena controvery rises again, which is not good news for mayor Annise Parker, who has been painted a bit as chief justice of Pontius Pilate's Court. "An estimated 6,000 supporters descended on Houston's Grace Community Church to keep national attention squarely on Parker for committing what they called political overreach and an attack on religious liberty," reports the Houston Chronicle. Even the president of the Southern Baptist Convention, Ronnie Floyd, was there. "In an indoor amphitheater with a massive American flag, religious leaders called on Parker to 'let the people vote' by putting the ordinance on next November's ballot, a chant that evolved into a political crescendo as the event's energy escalated." Apart from the mayor receiving a symbolic crucifixion after the subpoena disaster, the ordinance is now facing the full wrath of angry churchgoers. "Opponents gathered 50,000 signatures to force a repeal referendum onto the November ballot, but Parker and City Attorney David Feldman disqualified thousands of entries, saying they didn't keep with the city's legal standards. Opponents are now challenging the removal of the signatures in court, claiming the city attorney had illegally inserted himself into the petition verification process. The first hearing is scheduled for January."
Clickity Bits
'Soldier Charged in Death of Texas Constable'
Dallas in a Nutshell: Citizens Rank Schools and Roads Poorly, Shopping Gets Two Thumbs Up
Two of The World's Best Hotels Are Right Here in Texas
Texas Bans Owner of 'Murderabilia' From Visiting State Prisons
'Five Things to Watch in the Texas Elections'
Somehow, Winning The NBA Championship Didn't Place Spurs Players at Top of NBA List
'The Best Little House Race In Texas'
Did we miss something? Got a hot news tip? Send it our way: [email protected]. Or tweet Texas Monthly and Jeff Winkler