Quote of the Day
"It was interesting that, when Joan Rivers, and the procedure that she had done where she died, that was a clinic."
— Governor Rick Perry, whose comparison between the deceased comedian and Texas's closed abortion clinics hit the Internet like a bad joke.
GIF Monday
No one messes with Reveille, A&M's mascot who apparently has better security than the White House (too soon?). A cadet beside the dog's bed provided an amazing block—Deadspin called it the most important block in an otherwise boring game—after an SMU player almost turned Reveille into roadkill: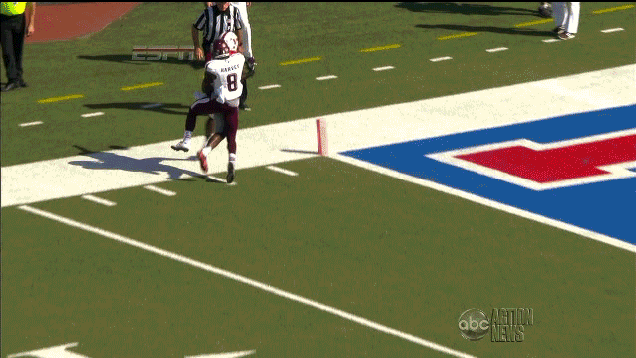 Daily Roundup
Race to Boredom — Hard to believe, but after all that talk, gubernatorial candidates Wendy Davis and Greg Abbott finally had a debate. Grant it, the event took place on football Friday "in a studio set up in a hospital" and "only televised live in a limited number of Texas media markets." Even harder to believe is the fact that anyone could call it a "debate." The format never allowed for the gubernatorial candidates to address each other directly, thus making it seem (as one savvy Twitterer noted), more like a duel job interview. Of little surprise is that both sides, and their respective media mouthpieces, claimed victory. There was some expected disagreement over voter ID laws, abortion, and the school finance disaster, but overall, Abbott appeared to have no need to really rock the boat and Davis often looked like she'd been replaced by an Al Gore-designed robot. The best summation of the debate appeared in headlines such as "Few fireworks in first Texas governor's debate" and "Texas Gubernatorial debate lacks game-changing moment." The debate's only star, if there has to be one, was the Rio Grande Valley, whose prominence is getting difficult to ignore, especially as the state's Hispanic population blooms. In the days since the debate, Abbott has made it clear he wants a gubernatorial TKO. "I think that we have a legitimate shot at either winning the Rio Grande Valley … or coming very, very close to doing it," said Abbott, sounding as curiously optimistic as Davis is when she declares her intent to win the race at large.
Super Castro Bros. — HUD head honcho, Julián Castro, recently told the Associated Press that "for the work that HUD does, and the housing market in general, Hispanics truly are the future." The former San Antonio major and current Secretary of the Department of Housing and Development was tapped in July to head HUD and the future of Hispanics in general seem as bright as his: "[C]iting a National Association of Hispanic Real Estate Professionals study from last year, [Castro] said nearly half of first-time homebuyers nationwide would be Hispanic in six years. The study from the trade organization also said Hispanics are expected to account for 40 percent of the estimated 12 million net new households across the country within the next decade." Funny enough, that also means more work for Castro. But if that doesn't pan out he and his brother, Joaquin, can always go to Hollywood. Especially since it appears Hollywood is preparing for their arrival. According to the San Antonio Express-News, fellow Texan Eva Longoria is "producing a drama loosely inspired by a Vogue article about Julián and Joaquin Castro." Emphasis on loosely, since the "Latino family drama" will apparently focus on "lies, blackmail and manipulation" and "The colorful and cutthroat world of Texas politics." Along with HBO's upcoming effort, it looks like Texas politics will finally get an entertaining show not named "Kinky Friedman."
Truly Homeless Children — The good news is that Amarillo has placed fewer children in foster care than in previous years. The bad news is that those children who are being removed get far removed. "More than 200 children are placed outside of the region at any point in time, regional CPS Director Camille Gilliam said," according to the Amarillo Globe-News." In Potter and Randall counties alone, CPS currently has placed about 120 children outside of Amarillo's region, which stretches into the South Plains." Many of the kids, coming from troubled homes, need to be placed in treatment centers, yet unfortunately, Amarillo "lacks a residential treatment center that would provide a secure setting for foster children with behavioral or emotional issues, and setting up those types of facilities can be costly." Not that the tide seems to be going back. "CPS case workers removed 418 children from Amarillo-area homes from January through July, a slight drop from last year." As for CPS in general, when they're not overstepping their bounds, they're actually incredibly overworked and understaffed. Maybe it'll be a big enough issue for the next gubernatorial race.
Another Texan in the White House — The man who scaled the White House fence and actually made it inside the building before being stopped is Army veteran Omar J. Gonzalez of Copperas Cove. "After scaling the fence on the north side of the White House, the intruder darted toward the presidential residence, ignoring commands from officers to stop, said Secret Service spokesman Ed Donovan. He was ultimately apprehended just inside the North Portico doors — the grand, columned entrance that looks out over Pennsylvania Avenue," reports the AP, which also notes that it's "unclear whether a fence-jumper has ever made it into the White House before." Details about Gonzalez are slim except that he retired because of disability and reportedly suffers from post-traumatic stress. Gonzalez is set to appear in court today on "charges of unlawfully entering a restricted building or grounds while carrying a deadly or dangerous weapon [he had a three-inch blade in his pocket]."
Executive Irrigation — You know things are bad with the water crisis when there's a bipartisan effort to address the issue. "A bipartisan group of Texas Congressional members sent a letter to President Barack Obama this week, asking for his administration's intervention in the 1944 Water Treaty between the United States and Mexico," reports The Monitor. "The letter states the group is frustrated by Mexico's lack of commitment to regularly deliver water to the United States as required by the water sharing treaty." The plea was signed by 35 of the Texas congressional delegation's 38 members. The letter itself is likely to be as effective as a drop in the pond. As the Washington Post noted in a story earlier this month, Rick Perry penned his own missive last year. And perhaps most importantly, Mexico doesn't really have any water to give, despite the agreement they signed in 1945.
Clickity Bits
Here's How You Get Preferential Treatment at UT
There Might Be a Whole Bunch of Babies Exposed to TB
Tarrant County Gearing Up For the 'Black Widow' Trial
Candidate Running For Office Finally Registering to Vote
Girls Reverse-Engineer 'Carrie' Prank, Create Happy Ending
Standing Students Ruin Internet in Waco
'Even Texas May Not Be Big Enough For Four Favorite Sons In 2016'
Did we miss something? Got a hot news tip? Send it our way: [email protected]. Or tweet Texas Monthly and Jeff Winkler