Art of the Day
George W. Bush, our president-turned-Renaissance-man, continues his domination of the arts. In the lead-up to his book about his father, George H.W. Bush, Dubya unveiled a duel portrait of the presidential pair yesterday. Canonically, the painting is interesting for evoking both the younger Bush's cat period, as well as his later shower expressionism.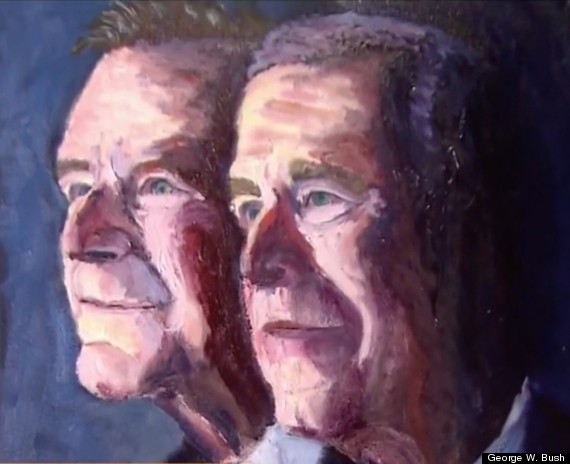 Daily Roundup
How a Bill Becomes a Headache — Gun and bans and roads, oh my! "On Monday, the first day that legislation can be submitted, Texas lawmakers filed more than 350 bills," reports the Texas Tribune, which reminds people susceptible to high blood pressure that the actual legislative session doesn't even begin until January. One of the bills, a state-wide ban on texting while driving, introduced by former House speaker Tom Craddick, seems to have gotten many people's attention. Open carry advocates also came out with guns blazing: two separate bills were filed that would allow Texans to brandish handguns. On the very hopeless end, a "team of Democrats has filed legislation to repeal Texas' ban on same-sex marriage." As for fringe bills, there's one that would essentially allow classrooms to post the ten commandments; one about housing prisoners in tents; and another ending daylight savings time in Texas. Don't worry if the list includes something you dislike. The law-making process doesn't work on a first-come, first-served basis. The "filings do not guarantee that the Legislature would consider the bills, and the assigned bill numbers have no impact on how legislation is taken up in committees. But the early attention can be a benefit ahead of the session, which starts Jan. 13."
Nouveau-NAFTA — The border might get a lot more prosperious in the near future. Mexico "recently instituted sweeping energy reform through fundamental changes to its constitution that will, among other things, allow foreign investment in oil and gas exploration and production for the first time since 1938, when the country nationalized its energy industry," reports the Brownsville Herald. Any fool can see where this is going. One energy consultant "said oil and gas companies already working the Eagle Ford Shale are likely to constitute a big share of that investment, which … could result in $1.2 trillion in economic activity on both sides of the border over the next decade. He described that figure, as well as potential energy production levels, as 'staggering.'" For Texas, this brand new energy day could mean "200,000 new jobs, $3.5 billion in state revenue and $45 billion in state GDP." It also signals the ever-increasing importance RGV has gained in state clout. Basically, the new Austin is probably somewhere near McAllen, which should probably prepare now with microbreweries, bike shops, and tacky bohemian condos.
Man-Handlers — The anti-panhandling trend has apparently traveled north from San Antonio to Dallas. "During a panhandling presentation to the [Quality of Life] committee, [councilman Rick] Callahan and others emphasized how problematic they found it and asked police for tougher enforcement," reports the Dallas Morning News. Callahan not only called panhandlers "noncomformists" (as if that's a really nasty insult), but expressed just how much he despises his fellow man: "Break their backs, break their spirit — that's the only way we're going to win this battle." Because, as everyone knows, the homeless have been waging a truly destructive war against respectable and conforming citizens. As the story notes, the city's "panhandling ordinance was last updated in 2011, when it outlawed panhandling in the high-profile areas of downtown, Uptown, Deep Ellum, and Victory Park. Elsewhere, solicitation is banned if it is after dark or by coercion. In the last six months, police have issued 155 citations for panhandling and arrested 39 people, police told the committee."
Tough Forecast — You know it's bad when the most innocuous of television stations, the Weather Channel, knocks you down a peg. In this specific case, the Weather Channel threw some cold water on the entire city of Galveston. "Galveston County came in eighth on the 'worst' list, based on a detailed analysis by The Weather Channel of both historical and risk-related weather, climate and natural disaster data," according to the Galveston Daily News. "The survey cites the 1900 Galveston hurricane as the deadliest natural disaster in U.S. history, claiming at least 6,000 lives, and Hurricane Ike 108 years later that did about $4 billion in damage, with another $1 billion attributed to the hurricane's damaging winds." Naturally, not everyone agrees with the assessment, with the county commissioner saying "They're missing the whole story." On the bright side, Galveston isn't nearly as bad as Orleans County in Louisiana and more than a few counties in Mississippi.
Clickity Bits
San Antonio Performed Well at Its NFL Team Tryouts
Former Mayor of Matamoros Indicted on Fraud Charges
$1 Million Initiative Set Up to Help Veterans's Mental Health Programs
'US To Notify Local Cops When Immigrants Freed'
Hell No, We Won't Vaquero: Pan-American Students Protest New Mascot
Did we miss something? Got a hot news tip? Send it our way: feedbag@texasmonthly.com. Or tweet Texas Monthly and Jeff Winkler