Quote of the Day
"Jan refers to this as the new catch-and-release program. Catch 'em in Texas and release 'em in Arizona, right?"
— Rick Perry during a meeting with Arizona Governor Jan Brewer, who recently sent a letter to President Barack Obama asking him to stop Texas's protocol of sending illegal immigrants to her state for processing.
Thursday Warning
Students entering the School of Nursing elevators were greated by this message. Officials later took the signs down, saying they were "poorly worded."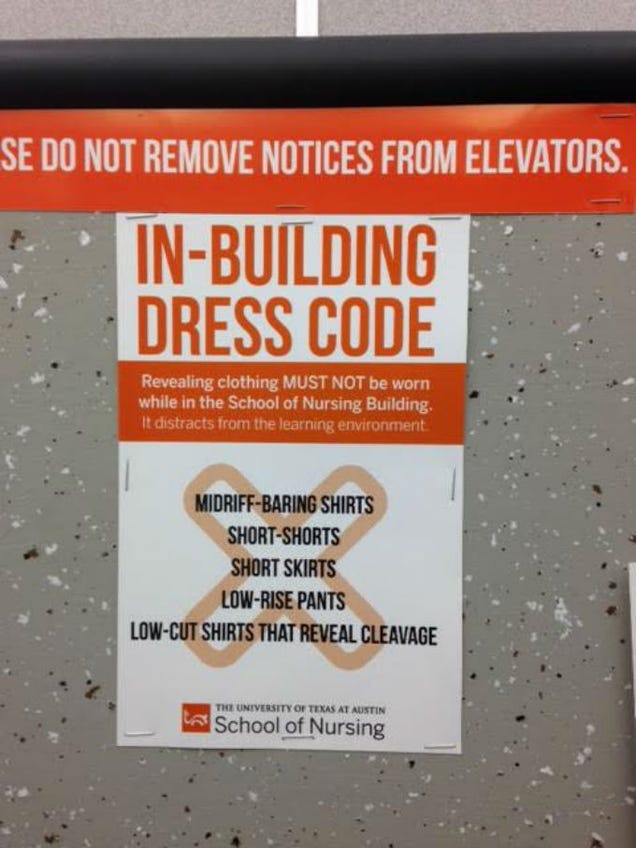 Daily Roundup
An Officer and a Pimp-Man — Testimony concluded yesterday at a hearing for Gregory McQueen, a Fort Hood sergeant who's been accused of running a prostitution ring. In its headline, the Houston Chronicle gets straight to the seedy point, declaring that the "Accused Fort Hood pimp's hearing concludes," which sounds as incredible as it's technically true. Even more wild is that Sergeant McQueen was the base's "sexual-assault prevention officer." Three women testified at a military hearing, which is similar to a grand jury. The first witness "was 20 at the time and said McQueen suggested the arrangement after she confided in him that she was experiencing money problems after her husband left her and her 3-year-old son and drained the couple's bank account," according to the Associated Press. Now, an officer will decide whether or not McQueen will face a court marshal. As the story notes, "The outcome of the high-profile case will be closely watched amid growing criticism of the military's treatment of sexual assault within its ranks."
Everything's Hotter in Texas — Don't let some old fogey try to tell you some back-in-my-day stories about how it used to be really hot. That's because you have scientific data that confirms that things are tougher now. "In Texas, the hottest months are 2.8 degrees higher than in 1984," writes the AP. It's not as bad as our neighbor to the northwest, however. "The average New Mexico summer is 3.4 degrees warmer now than in 1984." The results come from recent data showing that the Southwest and Northeast regions are warming faster than other areas in the country. For the story, one climate scientist at Texas Tech attributes this to "heat and drought are a vicious cycle that has been hitting the Southwest hard in recent years." Not that anyone needed a weathervane to know that forecast.
VFWrongdoing — The veterans health care scandal has now hit Texas. The Obama Administration has been rocked by accusations that veterans have not only died due to lack of care, but that VA officials intentionally manipulated data about wait times. Beto O'Rourke, the El Paso Congressman, only added fuel to the fire yesterday after he made public his own commissioned report. The Department of Veterans Affairs reported that 85 percent to 100 percent of vets were getting in for mental health appointments in El Paso within 14 days. But the Democratic congressman found that, on average, it took 71 days to see a mental health care provider and more than 36 percent of the veterans in the study saw no care giver at all," according to Politico. O'Rourke didn't hold back on his condemnation, either. "What everyone learned in Phoenix, and from [VA's] report last Wednesday, is that you cannot trust the VA to tell us how the VA is doing," he said. The Texas Tribune notes that O'Rourke is "considering filing legislation that would require that similar surveys be conducted across the country."
300: This Is Sparking — Congratulations(?) goes to the the Texas A&M Forest Service, which will soon pass a relatively dubious milestone: putting out its 300th fire of the year. Don't light any celebration candles! As the Chronicle notes, the "Texas A&M Forest Service has responded to 282 wildfires this year, which may sound like a lot but is on pace to be fewer than last year's total number: 711." And if you think that's a lot of fires, just remember, "Those figures don't include fires that are fought by local fire departments, which last year numbered 6,877." And it's all in time for the real fire season to begin! Only you may be able to prevent forest fires, but only the men and women of the Texas A&M Forest Service will prevent your home and acres from turning into dust.
Clickity Bits
Is the State GOP Looking to Dismantle Perry's Legacy?
Business Disobedience As Lyft And Uber Set Up Shop Despite Ban
Meet North Texas's Urban Storm Drain Explorers
SXSW Crash Suspect Has His Inaugural Court Hearing
Fort Worth Church Prays For Golf And Neighborhood Prohibition
'Seventh Grader's Service Dog Makes It Into The School Yearbook'
Did we miss something? Got a hot news tip? Send it our way: [email protected]. Or tweet Texas Monthly and Jeff Winkler