Photo of the Day
Wendy Davis might not have ended the night well, but she started it off in style. In what should be an inspiration to politicians everywhere, Davis wore a Wu-Tang Clan-inspired sweater. Even more fun? Reading a story on ABC that contains several well-made Wu-Tang references: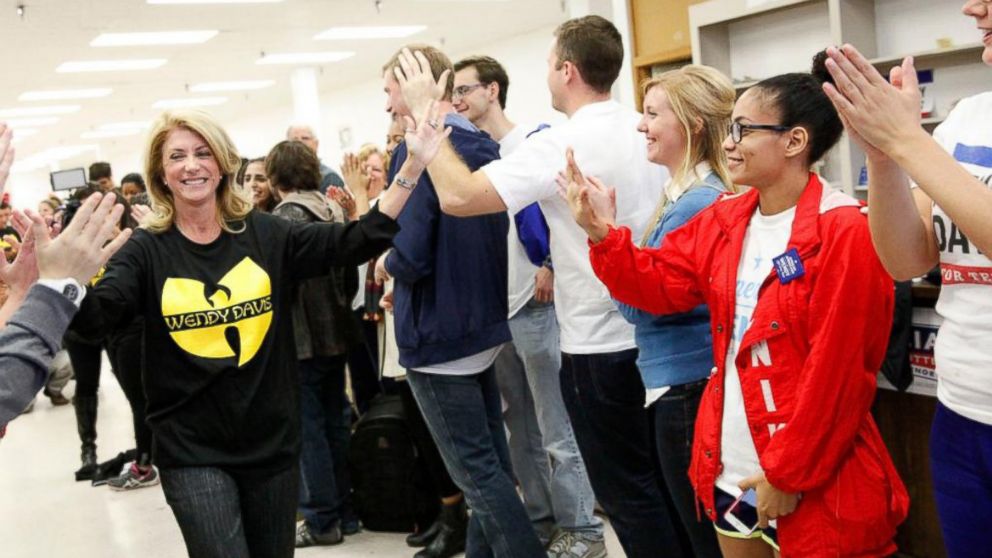 Texas By The Numbers
Vote Texas? — Approximate number of Texans that voted for a new governor: 4,680,000. Approximate number of people living in Texas: 26,450,000. Percentage of Texans that voted for the state's highest office: 17.7 percent.
Polling To The Choir — Percentage of Hispanics, nationally, who said immigration was a top election-year concern: 45 percent. In Texas: 43 percent. Number of those who said they were motivated to "support the Latino community": 37 percent. In Texas: 40 percent.
Cities of Growth — Percentage jump in Dallas home prices in the past year: nine percent. Nationally: 5.6 percent. Houston: 9.9 percent.
Daily Roundup
Lone Party State — Depending where you stand politically, last night either went like gangbusters or was a complete bust. Not that any of it was much of a surprise. Texas's new governor (called it!), Greg Abbott won with a whopping 59.3 percent of the vote. There was hardly time to even time to enjoy a stiff election night drink before Fox News called it, an hour after the polls closed. As the Texas Tribune notes, "The defeat came so swiftly that some in the crowd at the Davis campaign's Forth Worth election party — where the band had just picked up as early voting numbers came in — were unaware that media outlets had already called the race for Abbott." In the lieutenant governor's race, Dan Patrick, the candidate whom only one of twelve major newspapers had any faith in, also finished out with a roughly twenty percentage point-advantage to his opponent. "[Democratic state Senator Leticia Van de Putte] issued a statement about an hour after polls closed," conceding to Patrick. Democrats statewide were so severely trounced that talk of turning the state purple seems as fantastical as Texas one day seceding from the Union. "The real competition now takes place in the spring primaries, where the chief worry for GOP incumbents is losing to a more conservative candidate," is a real thing publications like Texas Tribune will say for the foreseeable future. Even publications in California have already written really scathing obituaries for the Democrat hopes in Texas. According to one political science professor quoted in a Los Angeles Times piece, this defeat "could start a vicious cycle of dampening enthusiasm, frightening investors off and make recruiting volunteers more difficult for 2016." While it might be a brand-new era with a brand-new governor, at least we still have a Bush to keep us grounded in the past. George P. won Land Commissioner by the second-largest margin in the non-judicial statewide races (the first was John Cornyn). It was also George P.'s first ever election. At this rate (and based on history) he'll be president by 2024. To say most observers saw any of this coming is an understatement. It literally made the history books even before the race happened. "The second edition of Mr. Calvin Jillson's textbook, Lone Star Tarnished, was published in mid-October. Any Texan curious about the outcome of the race between Mr. Abbott and his Democratic rival, Wendy Davis, can rejoice, or recoil, at a sentence in the book's preface that refers to 'Governor Greg Abbott,'" according to the New York Times, which notes that, no, the sentence was not a typo.
Tackled For A Loss — It appears the Adrian Peterson saga is mostly over. The Vikings running back, "pleaded no contest Tuesday in a Texas court to one count of misdemeanor reckless assault, avoiding jail time for whipping one of his children," according to CNN. Peterson "was sentenced to two years of probation, a $4,000 fine and 80 hours of community service, half of which will be taken care of by a public service announcement. Lest anyone think the milionaire sports star got off light, "Montgomery County District Attorney Brett Ligon said Peterson wasn't treated any differently because he is one of the NFL's marquee players," Considering the NFL's history with problems of spousal abuse, it should come as no surprise that "A handful of prominent Vikings players said Tuesday they'd be excited to have Peterson back on the roster, adding that the running back wouldn't have to do anything to regain trust in the locker room." In addition to the fine and community service, Peterson will also "take parenting classes."
Containment — In what may be his last major act as governor (apart from, you know, getting indicted), Rick Perry announced the agreed upon recommendations for Ebola containment. The biggest recommendation from the task force is one that seems to avoid the embarrassing stand-off between the New Jersey nurse and government officials last month. There would be "no required quarantine for lower-risk medical workers returning from Ebola-stricken countries in West Africa," reports the Austin American-Statesman. "Workers or visitors deemed to be at the highest risk of contracting or spreading the disease would be isolated." As the story relays, there's a lot of if-this-then-that scenarios the task force considered. Got the runs after a West Africa visit? Isolated quarantine! "Accidentally stuck by a needle used in treating an Ebola patient but does not have symptoms"? Quarantine! Perhaps most importantly, "The task force report, one of several being produced, said it 'does not support mandatory government-imposed strict quarantine for cooperative asymptomatic health care workers who do not fall in the 'high risk' category.'"
Sue The Friendly Skies — An airline company is once again in the news and this time it has nothing to do with labor disputes! Unfortunately, it has everything to do with a really terrible fleet of planes. "The federal government is suing Southwest Airlines Co. after failing to reach a settlement with the carrier over allegations that repairs to dozens of planes didn't meet safety standards," according to the Associated Press. "The government says that starting in 2006 Southwest hired a contractor to make extensive repairs on 44 planes to prevent the aluminum skin from cracking … The most serious allegation in the current case involves replacement of parts of the fuselages. The FAA says the contractor, Aviation Technical Services Inc. of Everett, Washington, failed to follow proper procedures." The Feds are seeking $12 million from the Dallas-based company and that's after a whole bag of millions was stuffed into the overhead storage space. "The FAA hit Southwest with $10.2 million in penalties in 2008, and that case was settled a year later for $7.5 million." Now is either the best time to get a discount ticket from Southwest Airlines, or the absolute worst time.
#AlexFromMarketing — Turns out, the meme-tastic beauty of Alex from Target was too good to be true. The Bieber-esque face that launched a thousand tweets has been revealed to be a marketing scam. A new company called Breakr, whose "purpose is to help small-content creators spread their work" fessed up yesterday to the fact that Alex From Target was actually a targeted campaign. To be clear, (and it is confusing in this age of guerrilla marketing), the boy who works at Target with the name Alex is real, but the photo of him was intentionally taken, posted and spread by a user in United Kingdom to "see how powerful the fangirl demographic was." The result being that that the entire world is apparently one, collective fangirl.
Clickity Bits
A Pair of Frenchmen Will Be Directing the Texas Chainsaw Massacre Prequel
New Year, Same Fight: Abortion Law Back In Legal Play Come January
Michael Dell Talks About Everything Under the Motherboard
Woman Makes It Into 'Ripley's Believe It Or Not!'
Get Students's Attention By Throwing Shoes At Them
Did we miss something? Got a hot news tip? Send it our way: [email protected]. Or tweet Texas Monthly and Jeff Winkler