Image of the day
It would seem that to East Coast elites, all white Texas politicians look the same (it's true, they do). Below is a story published yesterday from Talking Points Memo that received more than one twitter mention. Can you spot the problem?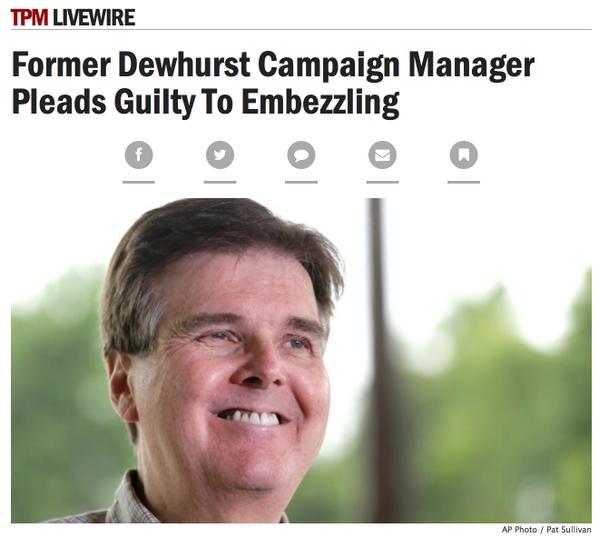 Texas By The Numbers
Green Party — Number of Texas House congressional races happening: 36. Those house members who have raised at least $1 million this election cycle: twenty. Number of those from Dallas area: seven. Amount by top fundraiser, representative Jeb Hensarling: $3 million.
La Educación Superior — Number of Texas schools in a list of top fifty colleges for Hispanic students: Sixteen. Rank of top-placed Texas school, St. Edwards: fifth. Number in top ten: two. Top twenty: five.
Miracle Workers — Number of jobs added to the Texas economy in September: 36,400. In the past year: 413,700 jobs. Number of times any state has added that many jobs: 0. Unemployment rate: 5.2 percent. Last year: 6.3 percent.
In Memoriam
Legendary Texas filmmaker L.M. Kit Carson went to that big sound stage in the sky. Carson wrote the cult classic David Holzman's Diary and helped write the critically acclaimed Paris, Texas. Carson also wrote Texas Chainsaw Massacre 2. Perhaps most importantly, at least to hipsters everywhere, he discovered and promoted a young Wes Anderson. On the opposite side of the Texas spectrum, Nelson Bunker Hunt went to that big oil rig in the sky. Once named the world's richest man, Hunt came from the wealthy Hunt family (one of the first oil baron families in Texas) but went bust in the eighties trying to "corner the silver market." He eventually recovered with a modest return in the millions range. He died of congestive heart failure.
Daily Roundup
Ebola Watch: Day 21 — Texas seems to preparing itself to be the Ebola Capitol of the Country. "Gov. Rick Perry announced Tuesday that three health care providers in North Texas will partner to form an Ebola treatment facility, as recommended by the state's infectious disease task force," reports the Texas Tribune. We're now like the Atlanta CDC's little, Ebola-infected brother! What we're not, however, is some cheap Halloween haunted house tour. Unfortunately BBC did not get the memo. They sent a reporter who returned from Dallas with a story title "My night in the Texas Ebola hospital." It reads like an incredibly dry British TV show (pre-Downton Abbey). In the good news department, the condition of the first nurse who contracted Ebola has been upgraded to "good" as she continues receiving treatment in Maryland. A disease worse than Ebola has, however, cropped up: lawyers. The family of the second nurse have retained a high-powered attorney from California because of a he-said-she-said with officials regarding her flying to Ohio. To give you an idea of how classy everything's about to get, the lawyer, Billy Martin, has "represented NFL star Michael Vick during his dogfighting case, actor Wesley Snipes during his tax case, the parents of federal intern Chandra Levy after her disappearance and the mother of former White House intern Monica S. Lewinsky during the sex-and-perjury investigation of President Clinton."
Oh, Buddy — As expected, Lieutenant Governor David Dewhurt's aid (who is not in any way related to Dan Patrick), "pleaded guilty on Tuesday to charges of wire fraud, making a false tax return and embezzlement of funds contributed to a federal candidate," according to the Tribune. "In his plea, Barfield acknowledged submitting inaccurate invoices to campaign accountants, prompting them to transfer money to accounts that were under his name or the names of his consulting company. He would then withdraw the funds and, in some cases, use them for personal purposes, such as the mortgage on his home or the tuition for his kids' school." His sentencing hearing is not yet scheduled but he could, in theory, "face a total of up to 28 years in prison and more than $600,000 in fines and fees."
Back To Normal — Remember that insane crisis on the border not six months ago? Seems like it all happened in the distant, distant past. And now, things are kind of back to normal. "Customs and Border Protection said Monday that the numbers of unaccompanied minors and of families with children apprehended crossing the border in September reached the lowest levels since the start of this year," according to The Arizona Republic. "The Border Patrol apprehended 2,402 unaccompanied children at the border in September. That's down 77% from June, when the Border Patrol captured 10,622 unaccompanied minors. The numbers of families with children taken into custody also fell sharply, to similar levels." Experts have attributed the drop partly on the natural, late-summer dip due to hot weather, as well as enforcement efforts of, say, DPS, which hasn't had hardly a wink of sleep since the troubles picked up in June. Lest anyone get too comfortable, "the spike in migration we saw this summer could return," said the Homeland Security Secretary last week.
Oil Ready — Despite the drop in case prices, Texas oil-folk aren't too worried. Just yet, at least. The Tribune has a nice story either showing the confidence or hubris of the people in oil-rich areas of Texas. "'The smart guys will figure that out,' said one Karnes city official. "'For us as a city, it's not any cause that's telling us to slow down on our planning,' said another Midland city official. It's sort of impossible to tell what's going to happen, especially when OPEC has complete control of what prices will be." Still, it's worth it to maybe be just the tiny bit cautious. "Busts famously follow booms, but economists and industry experts say towns atop Texas' biggest drilling zones probably aren't looking at the beginning of a bust — at least not yet. In the Permian Basin and Eagle Ford, operators have poured billions of dollars into pipelines and other infrastructure, so they're not likely to walk away unless things get much worse."
Clickity Bits
Party Weekend: DPS Will Be Open So You Can Get Your Voter ID on Saturday
Former Texas Sex Offender Confesses To All Seven Murders In Indiana
White House Fence Jumper's Arraignment Delayed Due To Mental Status
Trick, Not Treat: Perry's October 31 Arraignment Rescheduled For November
'Does Texas Owe $30 Million Over Medicaid Claims?'
Did we miss something? Got a hot news tip? Send it our way: [email protected]. Or tweet Texas Monthly and Jeff Winkler