Quote of the Day
"They f—ing ran circles around us."
— Miami Heat Dwayne Wade with a little PTSD over the Spurs's NBA Championship.
Photo of the Day
Matthew McConaughey fatigue might be setting in, but it's so hard not to feature the Texas Adonis when he appears at local music festivals wearing self-referential t-shirts: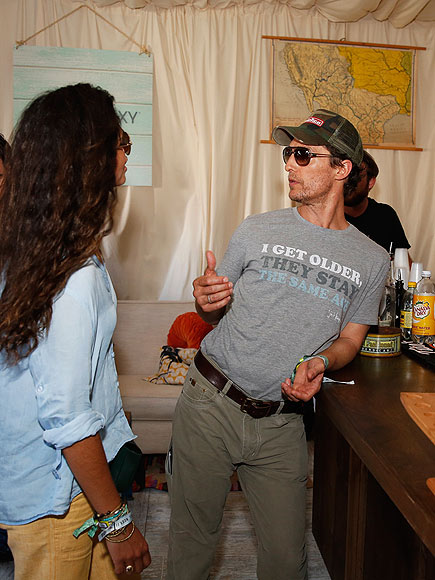 Daily Roundup
Ebola Watch: Day 7 — It's now been a week since Ebola came to the United States, and there seems to be the slightest signs of a fever breaking. Not to jinx it, but there haven't been any more reported cases, and everyone's back to the business of potential lawsuits and johnny-come-lately tasks forces. Patient Zero, Thomas Duncan, has been receiving the experimental treatment, and now "his condition was downgraded to critical," reports the Dallas Morning News. The experimental drug isn't the same one received by the recovering aid workers, but it's great to know the FDA can fast track life-saving drugs if it needs to. If Duncan does survive, he'll have trouble suing the hospital, according to a terrible what-if article from Reuters. "Texas tort-reform measures have made it one of the hardest places in the United States to sue over medical errors, especially those that occurred in the emergency room," reads the story that assures us it's just speculating. "Although it appears no lawsuits have been filed in connection with the case, possible legal claims could be brought by Ebola patient … Duncan or his family, anyone he may have exposed to the disease, or hospital workers put at risk." While the lawyers suit up for battle, politicians are just slightly ahead in their efforts. Governor Perry announced yesterday that he's putting together a "Texas Task Force on Infectious Disease Preparedness and Response to make recommendations on how to better handle a potential outbreak of Ebola or other infectious diseases," according to the Texas Tribune. "The 17-member group, composed of scientists, physicians and public officials in the health and emergency response sectors, will work on new protocols and make at least two reports to the Texas Legislature — on Dec. 1 and Feb. 1 — while serving as an ongoing information and education resource for the public."
Gay Marriage — The Supreme Court announced yesterday that it would not hear anti-gay appeals from five states, effectively allowing gay marriage in eleven new states where it had previously been banned (total count: 24 out of 50 states). It's as good a time for Texas plaintiffs to push things along, which is exactly what happened on Monday. The one difference in the case here, however, appears to be the fact that the couple has some much more immediate concerns. The couple is "asking a federal appeals court to schedule oral arguments next month because one of them is expecting," according to the Morning News. "Austin lawyer Nicole Dimetman is pregnant and expects to give birth for the first time on March 15." Half the couple is an air force veteran and they're seeking recognition because of the otherwise time-consuming and expensive "adoption" process of the child—a financial and legal barrier straight couples don't face. Perhaps the biggest gay marriage legal challenge will come from Texas. The Supreme Court declined to hear cases in which lower courts had been in favor of gay marriage. However "[the plaintiff's lawyer] noted that a three-judge panel, yet to be named by the [5th Circuit] appeals court, will hear the Texas case and one from Louisiana. In the Louisiana case, a federal district judge ruled that state could ban same-sex marriage." Not one to pass up riling his base—although clearly passing on any opportunity to live up to his self-professed love of libertarianism—U.S. Senator Ted Cruz called "for amending the U.S. Constitution to prevent either the federal government or the U.S. Supreme Court from overturning a state's ban on same-sex marriage," even going so far as to say he planned on introducing a constitutional amendment, reports the Texas Tribune. So much for all that talk about Cruz being so smart.
Women Problems — Another entry in the "City of Hate" category. If you're a woman, you're best off avoiding Dallas County—and, to be fair, Harris County. "Dallas County tied with Harris County for the highest number of women killed by domestic violence, catching up for the first time to the Houston-area county, which had stood alone at the top of the list for many years. Both counties saw 20 women die at the hands of an intimate partner," according to an annual report from the Texas Council on Family Violence. "Dallas County also had the highest per-capita intimate partner female murder rate in the state in 2013, with one woman killed for every 62,752 people, according to the report. The report also says the DFW metro area overall had 38 victims, more than any other metro-area in Texas." For the morbidly curious (or, better, those looking to understand and prevent such violence), the classic sketch of a battered Texas woman (based on the pie-chart data) is a wife who dies at home from a gunshot wound. Coming in after that is a girlfriend stabbed to death in a public place.
Texas Wreck University — School is off to a rocky start at Texas Tech, particularly for the PR department. Just a fortnight ago, the Phi Delta Theta frat was being investigated by the school, and had its charter revoked by the national organization, for hosting a party that featured such appealing signs as "No Means Yes, Yes Means Anal." Now, it's the ladies turn to pull a boneheaded move, say nothing of documenting it for all the world to see. University officials are now "investigating" a sorority that may or may not have had a "Border Patrol" party, complete with scantily clad border patrol sisters arresting and frolicking with some dumb stereotypes dressed in ponchos, sombreros, mustaches, and holding maracas. In all fairness, the sororiety's national spokeswoman said Zeta Tau Alpha "did not hold any such event, there was no 'Border Patrol' event on campus held by any group that we are aware of and only one of the women pictured is a Zeta Tau Alpha member." As expected, "We have already addressed the terribly insensitive decisions displayed in these photos with our member and apologize on her behalf for the offense she caused." The photos were originally leaked to the Internet's favorite bathroom wall, Gawker. The two border patrol agents in the picture appear to be "Kappas" although every Greek organization should be worried. "As we collect the data, we'll tally up which national sororities and fraternities are responsible for the highest number of racist events," said Gawker. As the Houston Chronicle notes, Texas Tech is off to a rousing start. "So far this year, at least three Tech fraternities have been disciplined by either the university or their respective national headquarters."
Clickity Bits
90,000 Pounds of Texas Beef Spiced With Metal
We Are the National Leader in Exports
What Could Go Wrong?: Same Company That Messed Up Eagle Stadium Will Do Repairs
'Austin Soccer Parents Asked To Calm Down On Sidelines'
Small Wallets, Big Adventure at Texas State Fair
Another Mentally Ill Convict to Be Put to Death
Did we miss something? Got a hot news tip? Send it our way: feedbag@texasmonthly.com. Or tweet Texas Monthly and Jeff Winkler